New Hyundai Ioniq Electric 2020 review
The revised Hyundai Ioniq Electric hatch gets a bigger battery, more tech and an improved range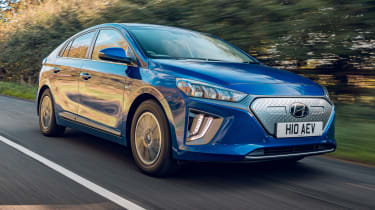 4.0 out of 5
Verdict
The Hyundai Ioniq isn't a class leader in any one area, but it certainly makes more of a case for itself with its improved real-world range. It's practical enough to use as an everyday family car and there aren't too many EVs for just over £30k that claim make a similar claim.
When it was launched in 2016, the Hyundai Ioniq was the Korean brand's first proper crack at building an eco-car. Similar to the Toyota Prius in profile, this efficiency-focused creation proved a very decent effort across all three of its versions: pure EV, plug-in and hybrid. Indeed, the car's success, particularly in all-electric form, was compromised as much by early supply issues as anything else.
Advertisement – Article continues below
Over the past couple of years, though, the Ioniq Electric has been overshadowed by other pure EVs from the same company, such as the Kona Electric and Kia's e-Niro and Soul EV. So Hyundai has given the model a string of updates. There are proper changes, too – more than the 'bumpers and headlights' treatment that cars usually get when they reach the halfway point in their model cycle.
image

Electric cars with the longest range

For starters, there are a number of upgrades in the powertrain. The old model had a 28kWh battery and a range of 174 miles on the old NEDC efficiency test; the new version gets a chunkier 38.3kWh pack and, while its official figure is little changed because of the switch to WLTP evaluation, in old 'NEDC money', its range is 193 miles.

That increased range is delivered despite an increase in power, from 118bhp to a more capable 134bhp. Torque gets a useful boost too, from 295Nm up to 395Nm. And to complete the powertrain upgrades, there's a switch from a 6.6kW on-board charger to a 7.2kW system, increasing the amount of charge that the car can take in a given period.

More reviews for Ioniq hatchback

Car group tests

Hyundai Ioniq vs Toyota Prius
Hyundai Ioniq Plug-in vs Toyota Prius PHV

In-depth reviews

Long-term tests

Long-term test review: Hyundai Ioniq Plug-in Hybrid

Road tests

New Hyundai Ioniq Hybrid 2019 review
New Hyundai Ioniq Plug-in 2017 review
Hyundai Ioniq autonomous ride review
New Hyundai Ioniq Plug-in hybrid 2017 review

The Ioniq also gets a few tricks from some of its stablemates – including Bluelink remote connectivity (more on that later) and smart regenerative braking, which monitors the traffic ahead and any gradient to best manage the rate of energy recuperated through the braking system. You can also adjust the recuperation level manually, of course, and unlike its predecessor, this Ioniq can bring itself to a stop using this process, allowing you to, in theory, drive it using just one pedal.

Other upgrades include privacy glass, redesigned instruments with mood lighting, new LED daytime running lights and tail-lights, fresh 16-inch alloy wheels and some safety tweaks, mainly front collision warning and avoidance assist with pedestrian detection. Oh, and if you've always wanted a sunroof on your Ioniq, now you can have one.

On the road, the Ioniq remains fairly anodyne; you're never in any doubt that this is a vehicle designed for efficiency above all else. The extra weight of the bigger battery means that despite the extra poke, the headline performance figures remain largely similar to before; 0-62mph takes 10.2 seconds (or 9.9 in Sport mode) and the instant torque of the motor means that the Ioniq is quick to respond as you pull away from traffic lights and out of junctions.

As with all Hyundai-Kia models, there's commendably little whine from the electric motor, unless you really stand on the accelerator. And wind noise will drown it out anyway once you're up to speed.

The steering is accurate but devoid of any feel, and the overall suspension set-up is more accomplished on the motorway than it is around town, where road imperfections do make their way through to the cabin at lower speeds. The Ioniq resists body roll reasonably well, but even allowing for this, and that instant torque, this is a car best used as a relaxed cruiser; involvement or 'fun' simply aren't on the menu.

Still, the cabin is big enough for four adults, and the boot is at the smaller end of the family car scale but still bigger than most superminis', at 357 litres. The rear seats fold to opening that capacity up to 1,417 litres – useful space, even though some of it will end up being used to store charging cables and the like.

Up front, though, there's a significant infotainment upgrade, because the car now gets the wide 10.25-inch touchscreen display recently slotted into the revised Kona. It's a fine unit, with crisp graphics and a rapid enough processor to cope with most inputs in a slick fashion, once you get used to the interface.

Regular EV owners will know how useful proper smartphone connectivity can be, so it's good to see that the Ioniq gets Hyundai's Bluelink set-up. It's a reasonably intuitive app for Android and Apple phones that allows you to check a number of parameters – everything from whether the car is locked, to where it actually is – and to set up some key functions, like scheduling charging.

The old Ioniq required you to set up this process from inside the vehicle itself, but it's much handier to be able to do it from your sofa. This was one area where Hyundai lagged behind the likes of BMW and even Volkswagen, but it's now bang up to date – and it's one less reason for experienced EV owners, who are used to this sort of connectivity, to ignore the Ioniq.

| | |
| --- | --- |
| Model: | Hyundai Ioniq Electric Premium SE |
| Price: | £32,950 (after Gov't grant) |
| Engine: | 38.3kWh battery, single electric motor |
| Power/torque: | 134bhp/395Nm |
| Transmission: | Single-speed automatic, front-wheel drive |
| 0-62mph: | 9.7 seconds |
| Range: | 193 miles (NEDC correlated) |
| Top speed: | 103mph |
| CO2: | 0g/km |
| On sale | Now |

Source: Read Full Article